SHELL APPOMATTOX PERMANENT FACILITY
3 June 2013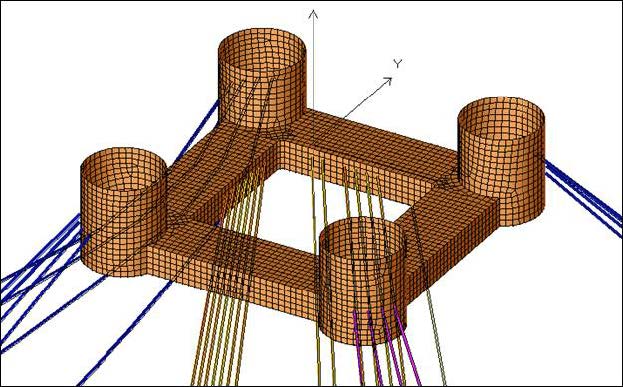 Delmar Systems provided mooring design engineering services for Shell's Appomattox permanent facility in the Gulf of Mexico. This included global mooring analysis verification using Delmar's non- linear polyester stiffness methodology and in-house mooring analysis software.
Delmar Systems' mooring analysis of polyester rope systems incorporates the actual non-linear tension-elongation characteristics of the polyester rope as well as the rope's permanent non-recoverable elongation. By modeling the true non-linear stiffness and capturing the permanent non-recoverable elongation of fiber mooring ropes in the mooring analysis,
Delmar Systems' can more accurately assess the vessel motions during a storm event and more effectively plan component lengths such that re-tensioning operations will not significantly impact the facility's ability to operate. Such accurate vessel motions and offsets from this analysis method can also aid greatly in the riser and other system designs that are integral parts of permanently moored facilities. Installation engineering and design support was also provided for mooring system installation and replacement using conventional anchor handling vessels.
Permanent facility
40-year design life
Non-linear polyester mooring analysis
FEATURES
Year: 2013
Location: Gulf of Mexico Appomattox
Water Depth: 7,300ft / 2,225m