16PT PRELAY MOORINGS, NORTH WEST AUSTRALIA
8 July 2020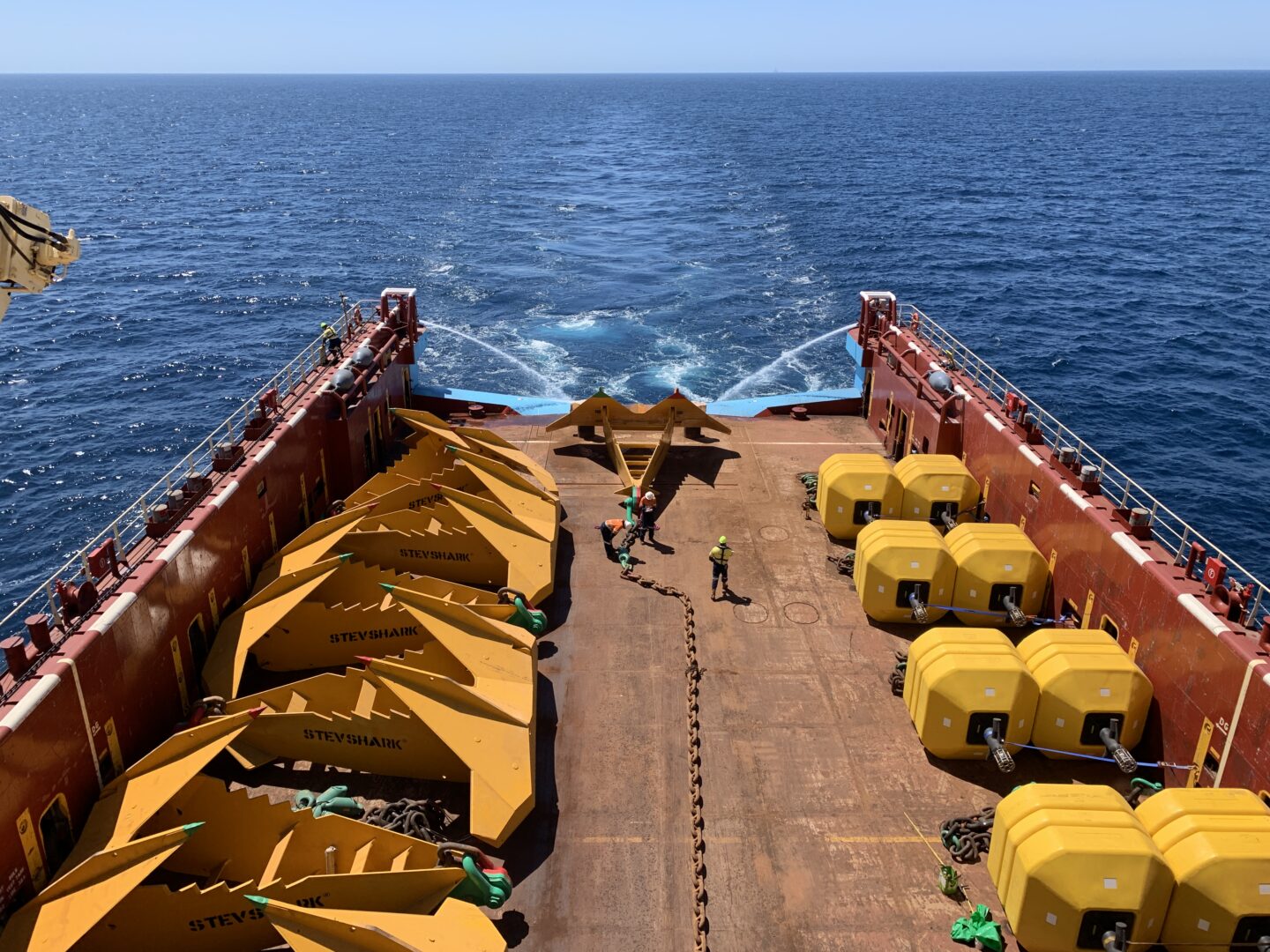 Deep Sea Mooring was contracted to provide mooring services for a 6th Generation Semi-Submersible MODU at two locations off the North West Australian coast in water depths ranging from 190m to 370m. Each location comprised of 16 prelaid mooring lines which were hooked up upon rig arrival.
In addition to the equipment, Deep Sea Mooring provided engineering and marine services, along with personnel (including rig movers, engineers and marine supervisors) to support the operations offshore.
This complex project demonstrated how Deep Sea Mooring uses its capabilities to manage the development and execution of a turn key mooring solution. The 16-point mooring system used at both locations was driven by challenging seabed conditions, existing on site assets and the extreme metocean conditions in field.
Previous mooring campaigns in the area demonstrated that seabed conditions were not favourable for conventional rig anchors. Therefore, Deep Sea Mooring proposed to use the 20mT STEVSHARK® anchors ballasted with an extra 10mT of material fitted into the fluke as the optimal anchoring solution for the hard cemented soils. The anchors were pre-tensioned off the critical path, allowing the rig to commence drilling operations in a timely fashion.
The extreme cyclonic metocean conditions (and the conservative 20-year return period specified by the operator) at the high-risk field necessitated a robust mooring solution. Deep Sea Mooring utilised its in-house technical and engineering capabilities to propose the first 16-point prelaid mooring system seen in Australian tropical waters.
Motivated by the reduction of risk in mooring line failure, Deep Sea Mooring proposed the use of torque-matched fibre ropes on some lines, to assist in improving the rig wire lifetime. The use of innovative torque-matched fibre rope technology was the first of its kind in Australia.
Finally, supported by our extensive mooring technician team in our Karratha yard, Deep Sea Mooring was able to provide a large quantity of certified mooring equipment to deliver the highest-quality mooring solution in Australia.
FEATURES
Period: April 2019 - December 2020
Main Contractor: Deep Sea Mooring
Products: 20mT STEVSHARK®, Torque-Matched and Torque Neutral Fibre Ropes, 84mm R5 Ground Chain, 7.2mT and 14mT Sub-Surface Buoyancy and associated Jewelleries
Services: Provision of Engineering Design, Mooring Equipment and Personnel to support offshore operations (including prelay, hook-up, disconnection and recovery)