INCREASING RIG MOVE EFFICIENCY AND ENABLING STORM EVASION
Delmar Systems' Releasable Mooring System is perfectly suited for the moored and DP/moored semi-submersible rig fleet and offers maximum efficiency, flexibility, and safety for operators and rig owners.
Developed with the experience of thousands of successful rig moves and mooring design engineers, our Releasable Mooring System greatly increases rig move efficiency in any region of the world, and it eliminates the risks associated with a mooring failure in cyclonic regions. The system enables a path to gaining regulatory approval for eight-line MODU systems in peak cyclonic seasons in regions that have historically required larger and more time-consuming and costly mooring spreads.
Features of the Releasable Mooring System
Maximizes rig move efficiency (from day(s) to less than 2 hours to disconnect a rig and transit) for significant cost savings
Allows rigs to quickly evade storms, ice floes, or well emergencies eliminating the risk of mooring failure in severe events
Provides substantial cost savings on rig moves by reducing quantity of AHTS vessels, reducing AHTS vessel time, and avoiding AHTS vessel related weather delays
Reduces HSE exposure time for AHTS vessel on-deck personnel
Reduces CO2 emissions through operational efficiencies during rig moves
RAR PLUS
The RAR Plus builds on 40 years of proven acoustic release technology with some key new features and represents the industry's preferred mooring release. With 500+ deployments and successful, non-assisted releases, the Rig Anchor Release (RAR) technology is proven and reliable. Used every day by many of the world's major operators and drilling contractors, the RAR Plus has saved millions of dollars and reduced NOx and CO2 emissions for our customers.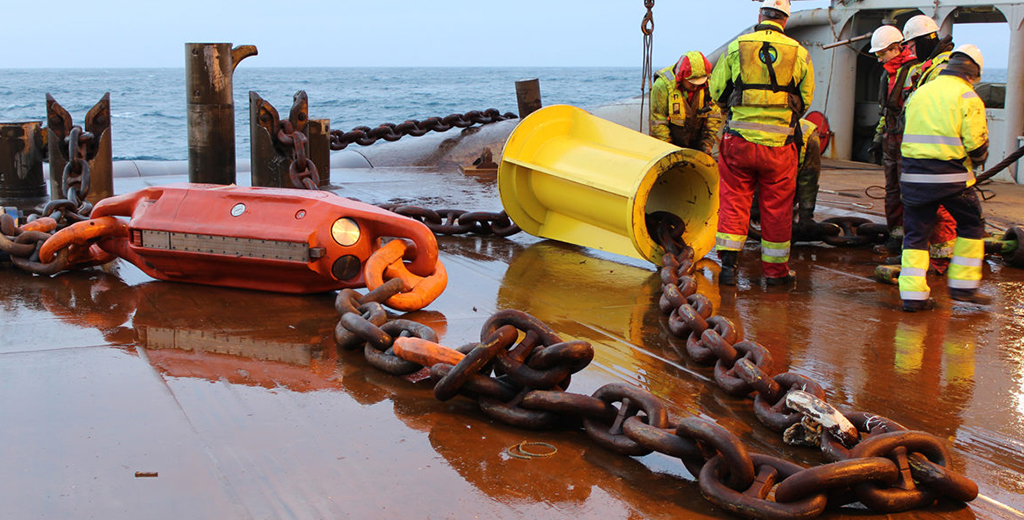 The new mechanical backup release method ensures the ability to release the moorings in the unlikely event that the remote acoustic transmission fails to actuate the RAR. The mechanical backup release bypasses the acoustic, electronic, and hydraulic systems in the RAR Plus, and it can be actuated by either the rig itself or with a nearby support vessel providing 100% redundancy in the system.
Advantages and Features of RAR Plus
500+ deployment and release track record
Proven and reliable acoustic technology and design
Independent mechanical backup release for ultimate reliability
DNVGL and ABS certified for 907 tonne Minimum Break Load (MBL)
Robust shell and locking mechanism will withstand repeated wear & tear
Release load rating of 360+ tonnes allowing for disconnection at higher line tensions
Flexible surface-controlled selective release of individual line, groups of lines, or all lines simultaneously
36-month+ battery life while deployed
Trigger-sleeve nesting capability for faster rig disconnects that are not dependent on AHTS support vessels
Seafloor Safe Fiber Rope
Delmar's new seafloor safe fiber rope maximizes the rig move efficiency gains from releasable mooring systems, plus provides all the traditional design performance benefits of fiber in MODU mooring systems.
Traditional fiber rope mooring systems can require significant operational planning and supplemental buoyancy to prevent contact with the seabed and the associated soil ingress integrity consequences. Delmar's seafloor safe fiber rope is designed, tested, and approved by DNVGL to allow for static and dynamic contact with the seabed without damaging the load-bearing fibers. This is achieved through a unique jacketing and filtration design proven through a rigorous dynamic soil ingress testing procedure performed by DNVGL on behalf of Whitehill Manufacturing. Supplemental buoyancy requirements are therefore minimized and operational efficiencies are maximized during prelay, rig connection and disconnection activities especially when paired with Delmar's proven RAR Plus releasable mooring system technology.

Seafloor Safe Fiber Rope Features & Advantages
Certified by DNVGL for static and dynamic seabed contact
165mm 900 tonne minimum breaking load with torque-neutral 4x4 polyester construction
Individually jacketed subropes with 5µm filtration plus overall rope jacket for ultimate soil ingress and abrasion protection
Integrated color-coded damage indicators for quick and reliable integrity assessments in the field
Integrated maximum load indicators for overload protection and recertification monitoring
Allows for prelay of entire mooring line, including the fiber rope segments thus saving rig time during the connection
Eliminates the requirement for supplemental distributed buoyancy to maintain clearance with the seabed during connection and disconnection
Allows for releasable mooring systems to fall to the seafloor without damage to or needing to recertify the fiber ropes
Compliments the Delmar releasable mooring system by further reducing AHTS vessel and rig time during mooring operations
STEVSHARK®REX
The STEVSHARK®REX delivers more holding power in complicated soil conditions, allowing operations to become accessible in the most remote and challenging territories on Earth.

STEVSHARK® anchors represents 25 years of operational experience in hard soils such as stiff/hard clays, dense sands, cemented and over-consolidated soils and rocks. This experience includes soils where a conventional anchor may penetrate the top layer but be unable to reach the targeted depth. The STEVSHARK®REX tackles these complicated soils more effectively. Strong soils are no longer prohibitive.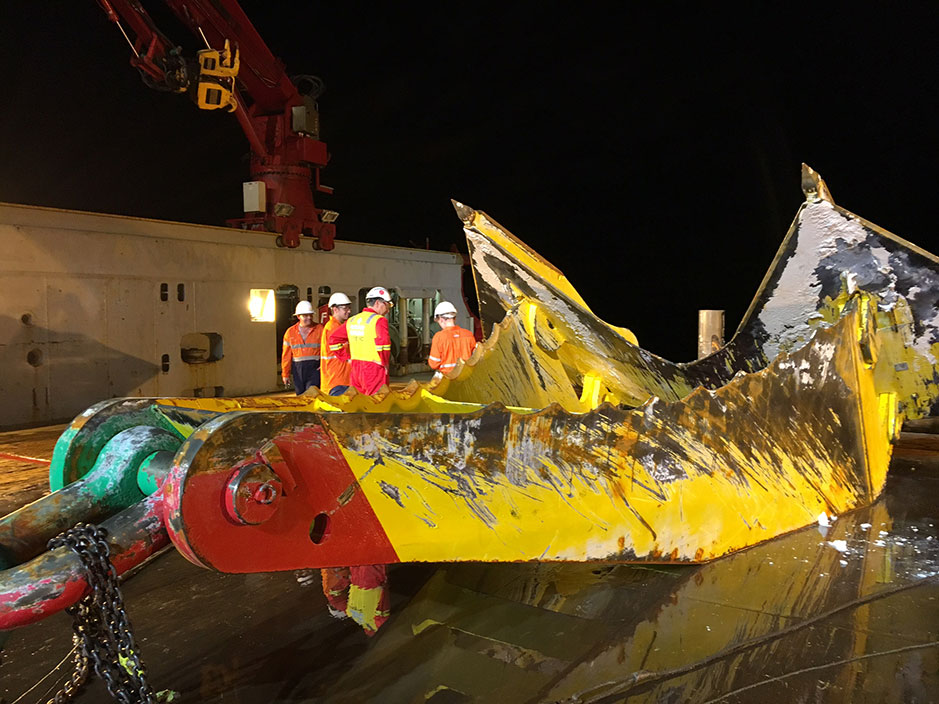 Although specifically developed for anchoring in areas with hard soils, the STEVSHARK®REX can also be set at different fluke/shank angles, allowing adjustment to successfully anchor in softer soils without having to change the anchor type.

The STEVSHARK®REX anchor geometry is a combination of improvements in anchor penetration, handling and efficiency. Anchor efficiency of our anchors has increased through each generation of design, leading to the STEVSHARK®REX obtaining type approval from the main Class Authorities. The STEVSHARK®REX was tested several times in traditional and challenging soil conditions consistently behaving as predicted and proving its superior performance.
The STEVSHARK®REX has large uplift capability allowing its use in soft soils also, thereby experiencing the benefits of mooring in deeper waters.

Improved handling features of the anchor design allows use on relatively small construction and dredging vessels, where its higher efficiency allows for using a comparably smaller anchor for the same holding capacity.