VRYHOF ANNOUNCES KEY CONTRACTS FOR STEVSHARK®REX
26 April 2018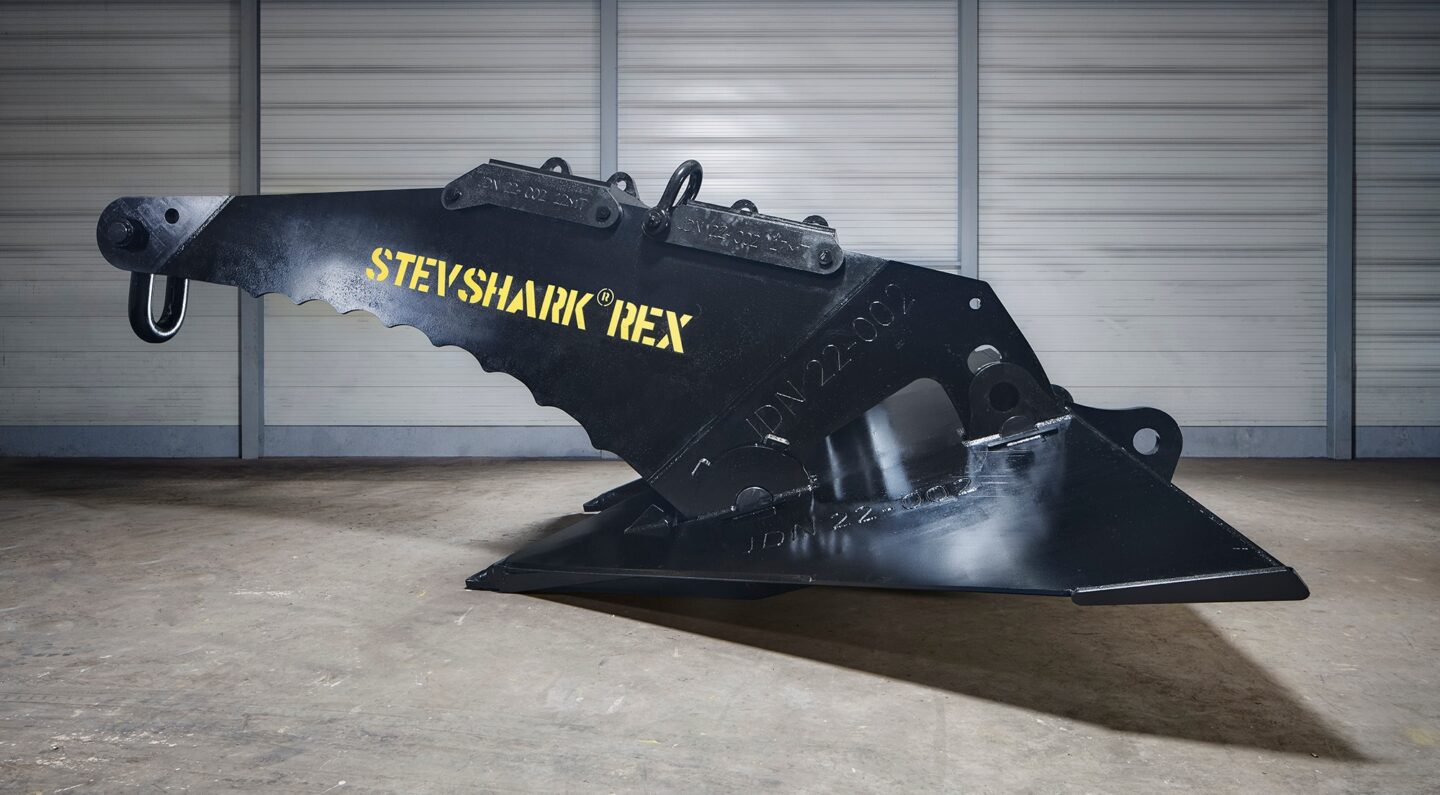 STEVSHARK®REX and its' Superior Holding Power Expands Application Boundaries of Drag Embedment Anchors and Confirms Solution as Industry Standard in Hard Soils.
Vryhof today announced a number of landmark contracts for its' industry leading STEVSHARK®REX anchoring solution with Anglo-French independent operator Perenco and its Congolese subsidiary Perenco Congo SA; Maersk Drilling in Trinidad; and international EPC contactor CNGS Group. In addition, two STEVSHARK®REX's will also be deployed by Jan De Nul Group, a leading dredging, offshore, civil and environmental contractor.
The contracts confirm the STEVSHARK®REX - with versions ranging from three to 60 metric tons (mT) - as the new industry standard in hard soils, with its' radical new fluke and shank geometries ensuring widespread adoption in the oil & gas, offshore construction, dredging and marine renewables sectors.
"In April 2017 when we launched the STEVSHARK®REX, we promised that it would redefine the application boundaries of drag embedment anchors, bringing more remote areas in shallower waters but with harder soils into play for offshore drilling, production, dredging and construction," said Vryhof Anchors Managing Director Leopoldo Bello.
He continues: "12 months on and we have a proven track record to support our claims. From the Northwestern Shelf in Australia to the Russian waters of the North Caspian Sea and from the Northern North Sea to the Indian Ocean and the Caribbean, we are opening up areas previously considered commercially unviable with conventional moorings and anchoring solutions."
His words were backed up by Perenco Customer Project Manager, Julien Broucaret: "With the STEVSHARK®REX, we were immediately impressed with the anchors' improvements, making purchase an easy decision."
The STEVSHARK®REX contracts consist of:
• A contract to deliver twelve 16 mT STEVSHARK®REX anchors to Perenco Congo SA to support permanent moored assets for the La Noumbi FPSO in the Yombo Field, offshore Congo. The field is characterized by irregular seabed, due to hard outcropping sediments and pockmarks - remnants of dewatering and/or degasification processes.
• The delivery of STEVSHARK®REX anchors to Maersk Drilling offshore Trinidad and the 'Maersk Developer' semisubmersible, where the anchor has a holding power of 47% more than previous anchors used in the area - block E of the East Coast Marine Area (ECMA).
• The deployment of STEVSHARK®REX anchors to Dutch-based international EPC contactor CNGS Group in the Caspian Sea. According to Levgenii Ivankiv, Construction Manager for CNGS Group: "Compared to the weight and size of the concrete anchors and 18 mT delta flipper anchors we previously used, the STEVSHARK®REX - in addition to the high holding capacity - is easy to handle, is relatively light and needs less space on the aft deck of the anchor handler. We also do not have to return to harbor all the time to reload."
• A contract with Luxembourg-based Jan De Nul Group to supply two customized 26 mT STEVSHARK®REX anchors and a 29.2 mT external ballast to support the Willem van Rubroeck cutter suction dredger (CSD), the world's most powerful cutter dredger with total installed power of 40,975 kW and dredging capabilities of up to 45 meters depth. Whereas previously, heavy concrete anchors were used to control the cutter head, the Jan De Nul Group will now enjoy the lighter, improved performance of the STEVSHARK®REX as well as specifically designed cutter points, thereby opening up new opportunities in hard soil areas.
Kris Berghman of Jan De Nul Group said: "Vryhof Anchors has done everything the company could possibly do to offer us the ultimate outcome of our mooring challenge, managing to convince us theoretically and scientifically. The STEVSHARK®REX will definitely increase the overall operational efficiency of cutter suction dredgers in areas around the world where we could hardly dredge before."
The STEVSHARK®REX has also undergone extensive testing in cooperation with Australian operator Woodside Energy at four different locations on the Angel oilfield in the North West Shelf of Australia. In fields selected due to the presence of calcarenite - a cemented and brittle rock - all four tests were faultless with the anchor able to keep the 243mT bollard pull anchors handling tug supply (AHTS) vessel in position during proof load tests.