INNOVATIVE MOORING CONNECTION SYSTEM
4 January 2017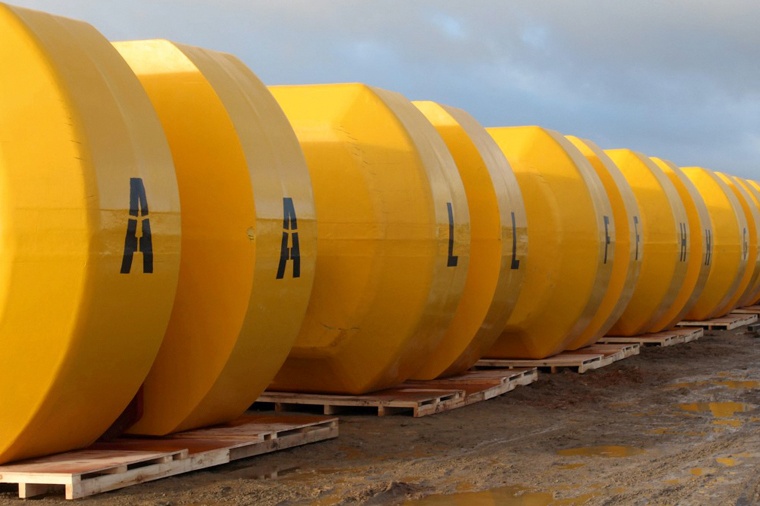 In 2013 Dana Petroleum awarded Balmoral Offshore Engineering a contract to design and manufacture key components for a pioneering mooring system to be used on its Western Isles project in the challenging northern sector of the North Sea.
The project involves a subsea development with at least five production and four water injection wells tied back to a Sevan-designed FPSO. The innovative integrated buoyancy/connecting system, developed by Balmoral in partnership with MoorLink will be incorporated into the FPSO's moorings, which comprise 12 lines in three clusters of four.

As specialist in the delivery of structural components needed to keep buoys in place, Balmoral contacted MoorLink to engineer, manufacture and deliver the mooring rope connectors, sold under the brand name 'M-LINKS', for permanent mooring applications in the harshest conditions.

The result of this joint expert effort is an exciting buoyancy mounting system, employing elastomeric mountings to reduce any imposed loads, which is kept separate from the mooring line to avoid interference with the stress path. The mounting is also offset vertically from the mooring rope to ensure that the buoyancy remains stable in the water.

The innovative element in the system is that it is a total bolted solution. There are absolutely no welds in the structural load paths, an arrangement that is said to lead to good levels of fatigue resistance as well as eliminating the requirement for special welding.

In total, 12 buoyancy and connection sets were manufactured (plus one spare) providing a net uplift of 12 tonnes per buoy at water depths of 170 metres (558 feet). They anticipate a minimum service life of 20 years.

The system is easily assembled and is rotationally stable in water while the rope connections are accessible for ROV inspection. These requirements were built into a system that is capable of rapid installation and quick retrieval. The relatively compact unit is completely stable when setting on the vessel aft deck. It stands on the bottom of the side-plates, so it is easy to slide overboard without damaging itself.

Proof-load testing of the connection elements was carried out while hydrostatic and uplift tests on the buoyancy proved to be highly successful. Due to the simplicity of the structural design, the buoyancy rating can be altered for different mooring requirements without major structural changes.

The system has proved beyond doubt to be cost-effective, highly suitable and exceptionally workable in very demanding conditions. The design itself solved a lot of installation issues that has been around with other similar systems. It therefore has great potential on a global basis.
FEATURES
Operator: Dana Petroleum
Location: Western Isles, Northern Sector UKCS
Period: 2013-2014
Main Contractor: Balmoral Offshore Engineering
Subcontractor: MoorLink
Products: 12 buoyancy and connection sets