23 June 2020
Deep Sea Mooring deploys the best quality equipment and the sharpest minds for every single mooring project, around the world, with more than 10,000 components in operation worldwide. Most of the time, these assets remain out of sight below the water, but at Deep Sea Mooring out of sight does not mean out of control. Quite the contrary, in fact. From Deep Sea Mooring's bases in Norway, the UK, Australia and Singapore, highly experienced subject matter experts keep track of all mooring components, throughout their lifetime.
Asset Management (AM) is at the very heart of Deep Sea Mooring's core capabilities developed decades by combining experience, expertise and technology. AM enables us to maximize insight, optimize current practices and evolve asset performance. Deep Sea Mooring understands all aspects of their safety-critical mooring equipment.
To keep track of all activities, Deep Sea Mooring developed a unique equipment asset management system with customized features including electronic identification and automated maintenance checklists. Despite being straightforward, this system is revolutionary in the industry, and consists of a patented ID band which includes an impact resistant RFID chip, and electronic bar codes.
Åge Straume, co-founder and Director Asset Management at Deep Sea Mooring explained: "Deep Sea Mooring was actually born from this digital system in 2008. In fact it is part of our DNA. By electronically marking and registering all movements and activities, Deep Sea Mooring can guarantee that all mooring equipment has the necessary certification and quality to uphold the technical integrity that is required for mooring equipment. Every component activity, from procurement and inspection through to maintenance, recertification to mobilisation and demobilisation, is precisely recorded."
Our clients and our industry expect that all documentation is digitally registered. This enables Deep Sea Mooring to maintain full control, traceability and easy identification of all equipment. Moreover, Deep Sea Mooring can then deliver the corresponding documentation electronically, whenever it is required.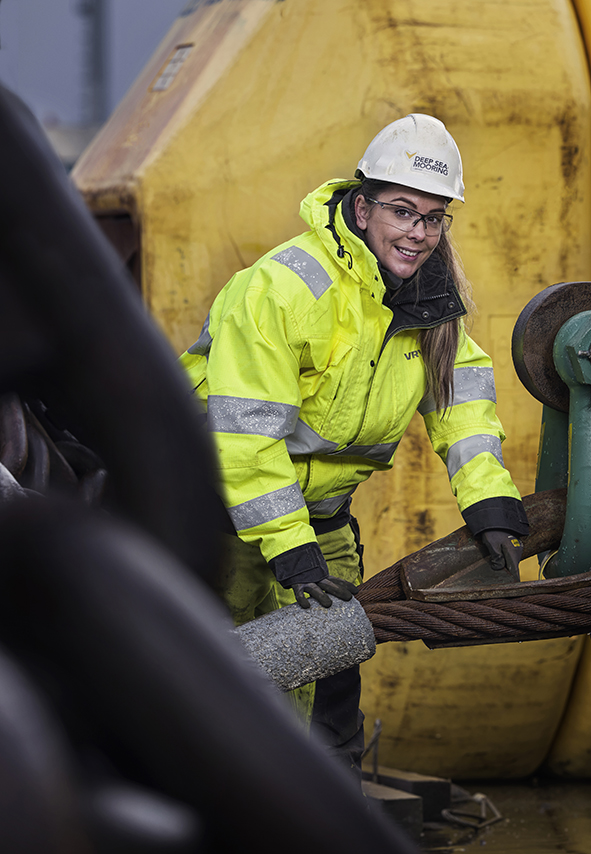 Ryan Bidgoli, Deep Sea Mooring's Managing Director Asia Pacific, is proud to work for a company that gives priority to a comprehensive asset management system. "Reliability and a high level of confidence in mooring system integrity in all sea, weather and soil conditions are crucial. Our client's obligation is to reduce the risks to health and safety of personnel on the floating facilities where mooring systems play a significant role. The philosophy behind our Asset Management program is to reduce the risk of mooring failure to a level that is as low as reasonably practicable (ALARP). It is all about safety and reliability. With that in mind, when it comes to mooring quality assurance, we are constantly trying to mitigate the risk for our clients. It is not merely a question of equipment, but also our team, our expertise and our experience. We have a fabulous team of experts, who physically inspect the equipment, but even the best people can make mistakes. We have therefore introduced a series of barriers in our Asset Management system to minimise human errors."
The most important feature of Deep Sea Mooring's AM system is that every single component is fully traceable, from procurement through to retirement. Each activity is constantly monitored, throughout the equipment life cycle, and Deep Sea Mooring can supply the electronic reports to back up this claim.
Once the components are obtained from renowned manufacturers, every movement, rental, maintenance activity and inspections is fully documented. Deep Sea Mooring has the most stringent maintenance and inspection regime within the international mooring market. Deep Sea Mooring's internal requirements are stricter than those imposed by class authorities or certification bodies, ensuring full reliability, complete digital traceability and easy identification of all equipment.
In Australia, where Deep Sea Mooring has a strong presence, the level of scrutiny is very high as operators and drilling contractors must satisfy regional requirements set by the local regulator. As Bidgoli explained: "Due to seasonal exposure to cyclones in The North West Shelf of Australia, the regulator must be sure that offshore operators and drilling contractors have done everything in their power to ensure the quality and reliability of the mooring system."
"Deep Sea Mooring is not an ordinary rental company. We pride ourselves on delivering turnkey mooring solutions: from engineering, project management and the provision of experienced personnel to mooring installation and rig move operations. We offer cost effective mooring solutions. We invest in excellence and certify our components to the most stringent standards. If our best practice is good enough for Australia, it is good enough for the rest of the world, too."
"Deep Sea Mooring in Australia is in a unique situation, where it is expanding its business capabilities to include Chain Inspection. Inspection and recertification of offshore mooring chain has always been a challenge in Australia. With local access to these services in Australia, mooring supplier and drilling contractors were subject to high costs for transportation. Deep Sea Mooring identified this market opportunity for providing an additional service, and plans to have its chain inspection unit up an running based of Karratha in 2021."