ROC-2, NORTH WEST AUSTRALIA
25 April 2017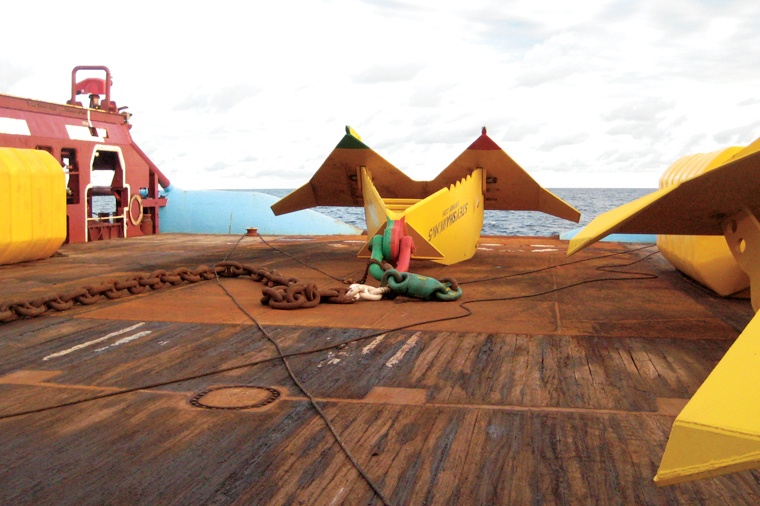 Deep Sea Mooring was contracted by Quadrant Energy Limited to provide mooring equipment for prelay installation operations of four primary lines for the MODU 'Ocean Monarch' mooring at the Roc-2 well location and provide client representatives and marine supervisors to support the operation offshore. The Roc-2 field is located off the North West Australian coast. Depth at this position is 100 metres.
The project is a perfect sample of how Deep Sea Mooring handles the development and execution of a full scope mooring solution. Even though the rig secondary anchors managed to penetrate what was thought to be challenging seabed conditions, the prelays are connected efficiently, allowing the rig to commence drilling operations as soon as possible. This is one means of QEL keeping the risk to As Low As Reasonably Possible (ALARP) levels and ensuring rig uptime.

During a previous mooring campaign by QEL around the area, it was known that seabed conditions might not be favourable for normal rig anchors. Hence in order to minimise potential rig down time during the anchoring operations, Deep Sea Mooring proposed that they prelay the four primary anchors in advance of the rig's arrival using a larger and specialised anchor designed for hard cemented soil, the STEVSHARK®.

Another benefit of prelaying primary lines, in addition to eliminating the uncertainty of the soil, is time savings due to the ease of connecting the rig system to the prelaid system, thus enabling the rig to commence its drilling operation as soon as possible.
FEATURES
Client/Operator: Quadrant Energy Limited (QEL)
Location: Roc-2, North West Shelf, Australia
Period: June - November 2016
Main Contractor: Deep Sea Mooring
Products: 20mT STEVSHARK®, 84mm R5 ground chain surface, buoys and associated jewelleries
Services: Providing engineering, mooring equipment and personnel offshore to support the prelay operation.