US VIRGIN ISLANDS POWER STATION CONVERSION PROJECT
24 April 2017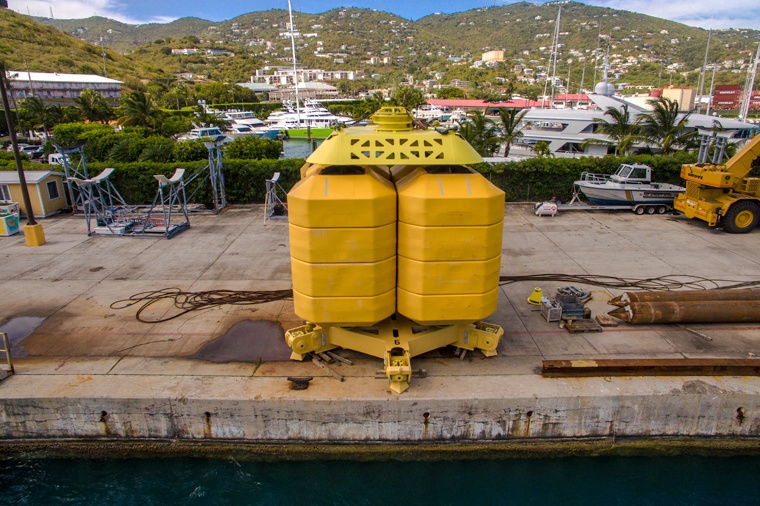 The Water and Power Authority of the US Virgin Islands (WAPA) has upgraded the power stations on the islands of St Thomas and St Croix to be able to use gas, using imported liquefied petroleum gas (LPG). A very large gas carrier (VLGC) moored offshore St Thomas as a LPG Floating Storage Unit, acts as a supply ship from which smaller LPG carrier vessels feed the two power stations on both the islands. The supply ship itself is re-filled on a regular basis by other trading VLGC vessels. The feeder vessels load from the supply ship and transport LPG to onshore terminals at Krum Bay, St Thomas, and Christiansted Harbour, St Croix, where the LPG is stored in large mounded, pressurised storage vessels before being supplied to the respective power stations.
The Scope and The Results
Vryhof was awarded the design contract for both the mooring system and modular mooring buoy for the offshore arrangement. In total, six 9.5mT STEVSHARK® anchors with 3.7mT internal ballast, shackles and 2,280m of 64mm diameter studlink chain were supplied for the mooring system. The modular mooring buoy was manufactured in the UK according to Vryhof's design and shipped to the US Virgin Islands for assembly on site.

Vryhof personnel supervised the assembly of the equipment and its offshore installation including use of a STEVTENSIONER® specially modified to suit 64mm chain.

The anchors were installed to 112mT in a water depth of 40m, the chains hooked up to the mooring buoy and the hawser connected to the buoy turret.

USVI mooring buoy: the design was carried out entirely within Vryhof, using 4 standard offshore buoyancy units supplied by Trelleborg, each with 28 tonnes of net buoyancy. These were connected on the bottom structure of the buoy, which was a six-leg chain spider, and at the top of the buoy to a platform with single turntable turret for the VLGC hawser. The chain stoppers on the spider were gimballed in two axes, allowing the chain to rotate in these directions, so avoiding any out-of-plane bending of the chain links, whilst the stoppers themselves were spring-loaded twin flap type with double bolted security plates. The structural design including the modular buoyancy elements was verified using in-house nite element analysis software. Corrosion protection was provided by a three-part paint system plus sacrificial anodes on the submerged section of the buoy. The single nylon hawser was supplied by Bridon Bekaert (UK) to Vryhof specification, fully inspected and tested prior to delivery.
FEATURES
Client: VTTI Terminal Support Services B.V. (VTSS)
Operator: US Virgin Islands Water & Power Authority (WAPA)
Location: 11 km off St Thomas, USVI
Period: April 2014 (design) - May 2016 (installation)
Main Contractor: Orion Marine Construction Inc.
Subcontractor: Vryhof
Products:
STEVSHARK®
Modular Mooring Buoy
STEVTENSIONER®VA64
Services:
mooring system design & specification
modular mooring buoy design
equipment procurement/supply project management
installation supervision