MOORING AND RIG POSITIONING SERVICES
18 January 2017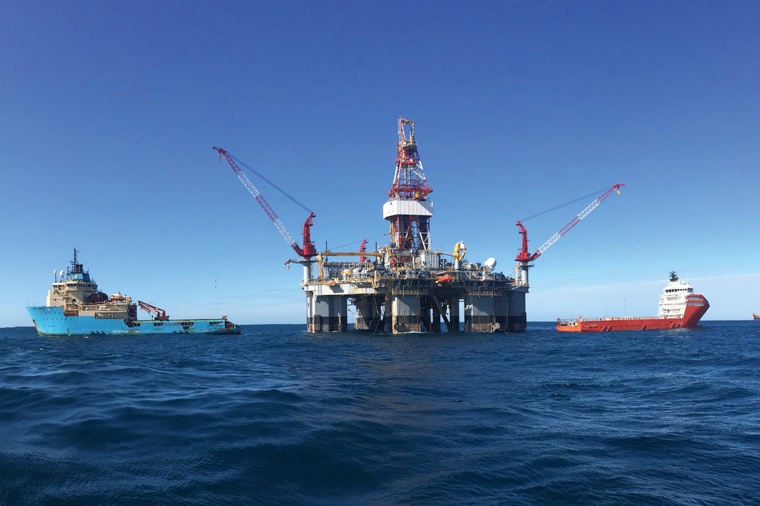 Deep Sea Mooring secured a turnkey mooring contract for the provision of mooring and rig positioning services to the Australian oil and gas company Woodside. The execution of the contract was project managed by Quadrant Energy Ltd. for and on behalf of Woodside's acquisition of an operating interest in the Julimar Development Project completed after this contract was placed.
Under the contract Deep Sea Mooring were tasked with the design, engineering, supply and installation of a turnkey mooring solution to accomodate semi-submersible drilling unit "Ocean Monarch" on location in a water depth of 147 metres at Woodside-operated Julimar field on the Northwest Shelf, Australia. The eight month campaign, which started in July 2015 required considerable engineering and site specific analysis in order to demonstrate the ability to hold station under cyclonic conditions.

In order to provide technical advantage to the client, Deep Sea Mooring engaged Vryhof Anchors, MoorLink and Global Maritime.
12 Point Mooring System
For this specific project Deep Sea Mooring designed, engineered and supplied an advanced 12 point prelaid mooring system. All 12 prelaid anchors were set and tension tested prior to the arrival of the "Ocean Monarch" in the field. Anchor Distance And Positioning (ADAPS) technology was applied to provide exact coordinates and penetration depth of each mooring anchor.
The 12 buoyed off Prelaid system consisted of:
Anchor: 20 tonnes STEVSHARK®, DNV Certified (anchor size and capacity were set based on the anchor analysis carried out by Vryhof Anchors).
Chain: 85 millimetre diametre, NVR5 Stud link Anchor Chain, DNV Certified.
Wire: High Strength EEIPS Wire Inserts, DNV Certified.
Buoyancy: Heavy Duty Roto Moulded Modular Surface / Sub Surface buoyancy units fitted with DTAC technology.
Total mooring package
With the 'Ocean Monarch' in operation, the total mooring package consisted of:
Eight 1,750 metres mooring lines, each a combination of chain, synthetic fibre rope, rig chain, subsurface buoys and the relevant jewellery for connection.
Four Storm mooring lines 1,930 metres, each a combination of chain, synthetic fibre rope, sacrificial wire pennants, rig wire, subsurface buoys and the relevant jewellery for connection. Sacrificial wire pennants were installed to mitigate the possibility of damage to rig mooring wires due to the chain / fibre ropes / wire rope combination.
High strength MoorLink swivels were used to relieve the twist and torque that builds up in the mooring line.
20 tonnes STEVSHARK® anchors for improved anchor embedment performance, upper soils consisted of surface fine to medium grained loose siliceous carbonate with lower soils comprising of sandy/silty clay.
Additional technologies used during the installation:
- ADAPS (Advanced Distance And Positioning System) attached to ensure each anchor was landed in the required position with the correct pitch and roll along with the final depth op penetration. An important factor when placing anchors in close proximity to subsea infrastructure.
- DTAC (Device Tracking And Control) systems or Buoy Tracker units were installed to each buoyancy unit allowing desk top Satellite tracking and monitoring of each buoy located in the field.
Cyclone season - In or Out? No problem!
For the first 4 months of the campaign, the "Ocean Monarch" was connected to 8 of the deployed 12 point spread ensuring station keeping on location whilst outside Australia's cyclone season. As cyclone season rolled in, Deep Sea Mooring offshore personnel were mobilised to connect the remaining 4 "storm lines" increasing the station keeping capability whilst complying with industry regulations. Great care and consideration was taken during the delicate operation to ensure all subsea assets were protected at all time.
FEATURES
Client/operator: Woodside Energy Ltd.
Location: Julimar Field, Block WA 49-L, off the coast of Western Australia
Period: 2015-2016
Main Contractor: Quadrant Energy Ltd.
Subcontractor: Deep Sea Mooring