FIRST INSTALLATION OF NINE NEW RAR PLUS™ UNITS
2 March 2019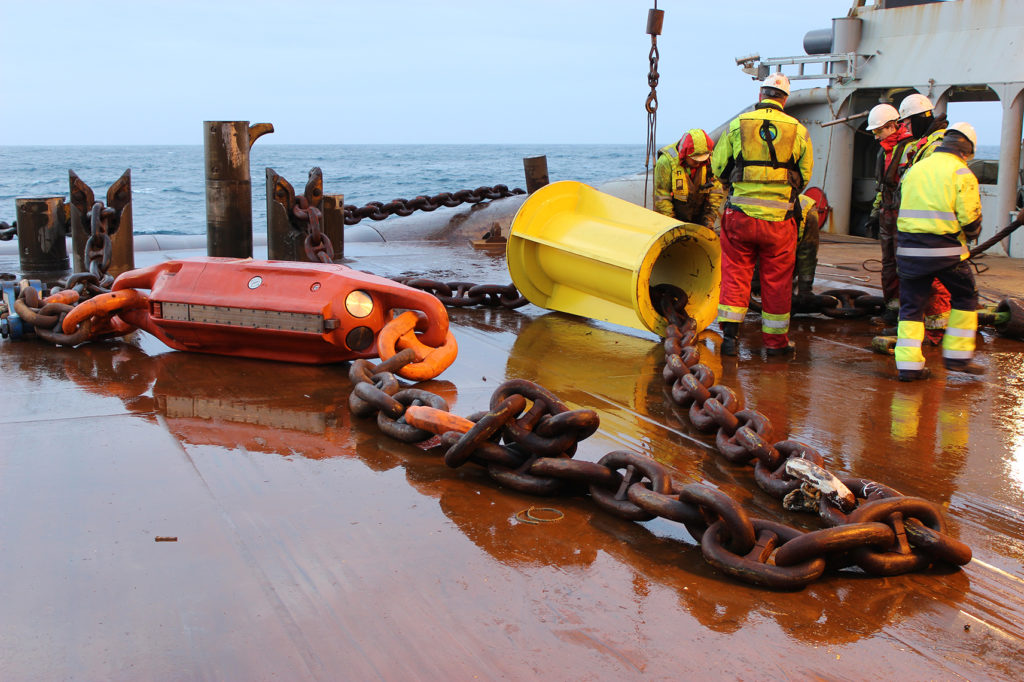 Delmar Systems successfully completed an 8-line disconnect of the mooring system on Seadrill's West Phoenix semi-submersible drilling rig on the UK Continental Shelf.
The rig disconnection was performed in an impressive two and a half hours without needing AHTS vessel assistance. The West Phoenix is currently under contract with Equinor for a three well campaign all of which are using Delmar Systems' Releasable Anchor Mooring System.
Delmar's RAR Plus is the first ever dual-release action (acoustic and mechanical) rig anchor release. The RAR Plus is unique in that it allows for immediate rig transit after release with the RAR Plus' nested in their trigger sleeves against the rig fairlead. This eliminates the weather window requirement that is typical for AHTS operations during a traditional rig disconnect.
Jan Petter Leirvåg, Equinor's Senior Consultant- Rig Move Operations said: "We had the privilege of being the first to perform a successful disconnect in the North Sea without support of AHTS vessels. We are always looking for improvements when it comes to safe and efficient operations on our rig moves and the RAR Plus is definitely an improvement. The West Phoenix will have the Delmar Systems' RAR Plus' on three wells to begin, and after a successful test period we will look for opportunities across our rig fleet. Good corporation with Moray Systems and Delmar Systems, has made this a true success."
John Shelton, Delmar Systems' Vice President of Technical Services said: "We are excited to introduce our Releasable Anchor Mooring System to the North Sea and save our customers significant rig time and vessel time during rig disconnections using RAR Plus technology. We look forward to the continued success of this campaign with Equinor and many future ventures in the North Sea."
The first disconnect of the three well program was performed using group line releases of two lines, two lines, and four lines. Equinor's three well campaign is scheduled to continue through Q3 2019.